Daily, 12:00 AM
Location: First Coast Christian Center, Location Information
Download: Download Event
UPDATE
As you are probably aware, the City of Jacksonville ordered a mandatory face mask requirement. A face mask is to be worn by everyone over the age of six in a public space when not able to social distance. As we follow this mandate, we ask that you join us as we continue to pray for our country, our leaders, and for those who have been affected by COVID-19.
BACK IN CHURCH!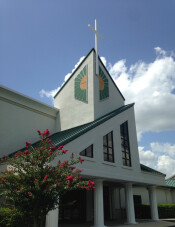 Resuming in-person worship services starting June 14.
We're excited to announce that we will resume in-person worship services starting Sunday, June 14, while continuing our on-line live services.
Your health and safety is our number one priority, so here are some changes we've put into place and some important information for you:
- There will be two services each Sunday starting on June 14 at 9:00AM and 11:00AM, with doors opening for seating 30 minutes prior to starting. Both services will be the same and will be shorter in length than in the past. Nursery and Children's Ministry will not be available at this time. Family units will sit together. If you have children, they are to sit with you the entire time. If your children are young, you may want to bring something for them to quietly do at their seat during the services. If you are uncomfortable attending church in the building at this time, we understand, please join us on-line for services.
- Families and individuals must maintain social distancing of at least six feet inside and outside. Our seating has been adjusted for social distancing. Seating will be spaced in clusters for families and individuals at least six feet apart. An attendant will direct you to seating. There will be no greeting time with handshakes, hugs, high-fives, etc., but smiles and hello waves are encouraged.
- You will be able to enter the building through the main lobby on the North or South side. The lobby will be open for entry into the sanctuary and exiting only.
- You're encouraged to wear a face mask, but it's not required. Face masks and gloves will be available at the door for those who desire them.
- At this time there will be no in-person Wednesday evening services, department events, ministry practices, or small groups. We'll let you know when they will begin again. Also, coffee and snacks will not be provided, and the drinking fountains will not be available for use at this time.
- Hand sanitizer stations will be available in various places. If you leave the sanctuary, please wash your hands before returning.
- If you sneeze or cough use a tissue or the inside of your elbow to cover it and wash your hands.
- If you or someone you live with is sick or symptomatic in any way, if you have a fever, weak immune system, are in a high-risk or vulnerable group, or if you have been in contact with anyone who has had Covid-19, please stay home. You can enjoy the services live on-line from home.
- Our facilities will continue to receive regular cleaning and disinfecting along with extra cleaning and disinfecting of high touch surfaces.
- Bulletins will not be given out at this time. Announcements will be made from the platform and on our website. If you're not receiving emails from the church and would like to, please contact us and we will send them out to you.
- Adjustments and changes to the above will be made as needed, including the reduction of protocols as soon as possible. We look forward to when we can resume all our regular department ministries.
CHURCH SERVICES ONLINE!